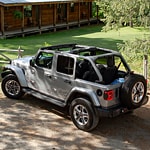 When you want an SUV that can do it all, then you have to look at what Jeep has to offer. The most legendary name in the Jeep lineup is the Wrangler. That's because the Wrangler is designed to handle any corner of the Earth. Here's a look at some of the most ingenious and rugged capability features of the Wrangler.
When you go over rocks and other rugged terrains, you don't want to do damage to your undercarriage. That's why the Wrangler comes with high-strength steel skid plates. These skid plates can help protect your fuel tank and other critical parts of your vehicle.
On uneven terrain wheel articulation is important. That's why the Wrangler offers both Tru-Lok® Electronic Locking Differentials and Electronic Front Sway Bar Disconnect. These two features will give you the flexibility to handle the most uneven terrain with ease. No matter where you want to go, the Jeep Wrangler can take you there.