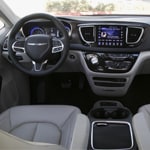 The Chrysler Pacifica is easy to drive, has seating for a big group, and is consistently ranked among the best family vehicles. This popular family minivan offers performance features for safe transport, and that includes people and their possessions.
Enjoy a safer and more secure ride with Electronic Stability Control. This feature helps you maintain directional control of your Pacifica by applying selective braking and providing throttle control if needed. You might need that extra bit of control when towing a heavy load. Pacifica, when properly equipped, has a 3,600-pound maximum towing capacity. That's a Best-in-Class feature that gives you the option to bring your oversized toys along when you travel.
Larry H. Miller Casa Chrysler Jeep understands that sometimes you need to experience a vehicle to get the full picture of all it has to offer. Stop by our Albuquerque, NM location to experience the Chrysler Pacifica with a test drive.